In today's competitive marketplace the ability to effectively plan, schedule, communicate and share within a business structure is critical. As an organisation grows, it becomes increasingly difficult for people on the ground to understand what's happening at the top. And for people at the top to appreciate what's happening on the ground. The more decentralized a workforce is, the more difficult it is to maintain control over the critical components required to deliver positive results.
Of Course, no one wants information overload. Better communication isn't just desirable. It's vital to the efficiency and cost effectiveness of your growing business. Good communication is effective, organised, and targeted. FulleStop UK makes that not just possible, but simple.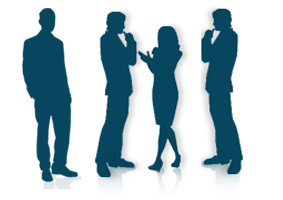 Now your virtual team can collaborate online anytime, anywhere with total ease ! FulleStop
intranet - extranet software
will help you turn far-flung groups of colleagues, vendors, clients, employees and telecommuters- into a virtual business! Each team member can create, manage and publish information to a targeted audience of people who want and need to know it. Your staff can access the components they require to work effectively while your customers view only the data that is relevant to their interaction with your company.
Simply put, An Intranet is a password-protected area of the Internet that allows important information to be shared by individuals anytime and anyplace. An Extranet simply extends this password-protected area to other communities that you work with, such as Suppliers, Customers.
Business analysts report that many major corporations are turning to
intranet and extranet applications
to streamline their business processes, and they predict that this trend will only continue to increase. Intranet and extranet applications provide the ability to upgrade your entire system without the need for upgrading every individual workstation within your company. These applications can also be backed-up more easily and monitored more successfully by maintaining your important documentation directly on your server.
Many organisations achieve significant benefits from Intranets and Extranets, particularly, when they have staff that work remotely or that travel frequently. These staff can simply access the company information they need via a web browser, once they have a username and password. The sophisticated user authentication and encryption algorithms used through-out the system safely prevent any unauthorized access to sensitive information in the system.
Fullestop.co.uk
understands that the needs of your business are unique, and off-the-shelf pre-package software seldom provides all of the solutions that you are seeking. We can create a unique intranet / extranet software solution to match your most challenging business needs, customized to seamlessly integrate with your existing hardware and software requirements. We have expertise in crafting a custom programming solution that will address your most challenging software goals.
Gone are the days of specialized software and potentially complicated client configurations; all one needs is a standard web browser and support for Java or ActiveX. This full featured capability, coupled with the extreme ease of use, has opened the floodgates of ideas about how to exploit this to its full potential-and this usually leads to the concept of "ubiquitous" access.
Isn't it time your company began to realize the returns on investment that the large corporations are enjoying from their intranets and extranets? Deploy a productive intranet or extranet.
Contact us
for more information