Have you been dreading the day when the responsiveness of your site begins to suffer noticeably from the side effects of its own success?
Are you looking ahead to a time when the amount of content on your website exceeds your ability to manage it? Rising traffic volume and relentless growth of site content can drag down the performance and impact the manageability of any site. The wise web master plans and prepares for the inevitable, before the symptoms become obvious. This is where
Content Management
comes to rescue!
A web
Content Management System (CMS)
is a software system used to manage and control a large, dynamic collection of web material (HTML documents and their associated images). CMS facilitates document control, auditing, editing, and timeline management. It provides the following key features:
• Automated templates
Create standard visual templates that can be automatically applied to new and existing content, creating one central place to change that look across a group of content on a site.
• Easily editable content
Once the content is separate from the visual presentation of your site, it usually becomes much easier and quicker to edit and manipulate. Most CMS software includes WYSIWYG editing tools allowing non-technical individuals to create and edit content.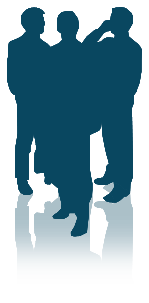 • Scalable feature sets
Most CMS have plug-ins or modules that can be easily installed to extend an existing site's functionality.
• Web standards upgrades
Active CMS solutions usually receive regular updates that include new feature sets and keep the system up to current web standards.
• Workflow management
Workflow is the process of creating cycles of sequential and parallel tasks that must be accomplished in the CMS. For example, a content creator submits a story but it's not published on the website until the copy editor cleans it up, and the editor-in-chief approves it.
• Document management
CMS solutions may provide a means of managing the life cycle of a document from initial creation time, through revisions, publication, archive, and document destruction.
Content Management System (CMS) differs from website builders like Microsoft FrontPage or Macromedia Dreamweaver. CMS allows non-technical users to make changes to an existing website with little or no training.
At
Fullestop.co.uk
, we concentrate on what we do best- developing great site designs from both a navigational and a visual perspective. We try to build sites that contain information that would be relevant to a wide audience and yet meet the needs of multiple, distinct audience.